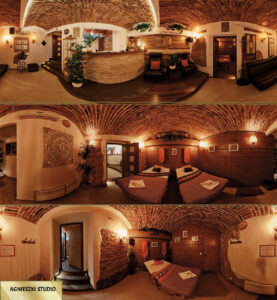 Massage studio at Św Agnieszki (Kazimierz)
Couples Massage in Krakow
We invite you to the most exquisite couples massage experience in Krakow! A sensual and relaxing Thai massage for two is a perfect way to spend quality time together in an intimate atmosphere, and an excellent idea for celebrating and nurturing your love.

The unique ambiance of May Thai Massage private massage rooms stimulates the senses, enveloping you in light, sound, and oriental fragrance. Our double rooms allow you to gaze at each other, creating an atmosphere of closeness and harmony, while our experienced massage therapists will guide you through this extraordinary journey into a state of relaxation and bliss with remarkable effectiveness.

This magical relaxation will transform your perspective, thanks to its calming effects. The mind, isolated from negative thoughts, perceives stimuli differently, thanks to the specialized massage techniques. Relaxing in the heart of Kazimierz in Krakow or right next to the Krakow's Main Square is a true sensory delight!
Massage studio at Poselska (next to Main Square)
Thai massage with essential oils
Are you in search of a unique gift that will help you relax and recharge?
A Thai massage for two can be a romantic surprise or a gift for a wedding anniversary or birthday. The traditional Thai massage techniques combine elements of yoga, stretching, and acupressure. It improves mental well-being, calms, and has a positive impact on those experiencing prolonged stress. A Thai couples massage is primarily a shared journey through carefree space, which strengthens not only your well-being but also the bonds between you! Learn more about Wat Po Thai massage here.

At May Thai Massage parlors in Krakow, we take care of every detail and provide an individual approach to each person who visits us. Our goal is to improve your well-being, health, and beauty!

As part of our Thai spa packages for couples in Krakow, you have the option to choose treatment packages tailored to your individual needs. This way, we can combine several of our best services during one Spa session.

Such an original Thai Spa for couples can include, for example, a relaxing Thai oil massage combined with reflexology and foot massage, which our clients have fallen in love with over the years. A relaxation Thai Spa ritual for couples can last from 1 hour to even 3 hours, depending on the client's preferences. Our offer is directed even at the most demanding clients, as we aim to take care of every aspect.

A couples massage in Krakow at May Thai can also be a splendid choice for a gift voucher suited for any occasion! We invite you to a massage at May Thai Massage salons.